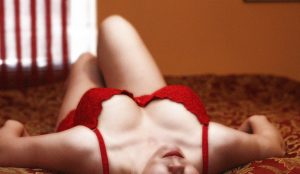 Intimate portraits (or boudoir portraits) are an absolute favorite of our clients!  Why?  Because they feel empowered and revitalized after the experience. 
And it IS an experience. 
I Don't Have Anyone to be Doing a Session For…
No problem at all!  We feel that women should do this for themselves, first and foremost.  While many of our clients are brides-to-be and want a special gift for their grooms, or are already married, and want a gift for their husbands to celebrate a birthday or anniversary – we have so many clients who do not have a husband or significant other.  Yet they realize the benefit of having a session just for themselves.  They get a huge boost in self esteem, they get pampered with professional hair and makeup, they get to see themselves through different eyes and fall in love with themselves again and can appreciate their looks.  It is a gift they give themselves.  Sometimes a session is a celebration of hitting a weight loss goal, or a divorce, a new job, or a new hair color, to get out of a slump, or just for fun.  We highly encourage you to do this for YOU.
I am Too Shy…
If you are a bit shy or nervous, you have no need to worry.  You can be as tame or as risque as your heart desires, and there will be no photographer pressure to push you into something uncomfortable, and having a female photographer might be just the key to have you feeling at ease.  You just might surprise yourself by the end of your session, though!  Nancy can tell you stories about the shy girls who start off wearing jeans and a tank top and end up running topless through the studio trailing a bedsheet, totally having the time of their lives.  But if you are the type to end up still wearing the jeans and tank top, you will still have a blast and we can call it a glamour session!  No pressure – seriously.
I Think I Need to Work Out More Before I Can Book My Session…
Well…are you saying that you need to look a certain way before you can love your body?  We wholeheartedly disagree!  Society trains us from little girls that we should look a certain way and we must conform or nobody will like us.  That is so detrimental and such a tragedy to tie our self worth to our appearance.  We are here to show you that you are beautiful no matter what you look like.  Or think you look like.  Let's ditch those ideals and show some self-love.  You might be amazed at what we can achieve with just lighting, angles, poses and outfits!  – But if you seriously have a goal of wanting 6-pack abs for your session, we are absolutely fine scheduling you out several months so you can have a goal date to work towards.
What can I Expect at My Session?
Your boudoir session includes:  professional hair and makeup (so you feel like a model for the day), assistance in choosing your outfits (sometimes your favorite lingerie won't be as pretty in photos, our experience will help guide you) – and access to our client closet if don't have outfits of your own, poses that flatter your body type, and you get to view and choose your favorite photos at the end of your photo shoot (optimizing time in case you are sneaking out of the house for a surprise for your significant other or need your products quickly for a last minute gift).  Our private studio (downtown Colorado Springs) offers you several different sets, a changing area, snacks and drinks, and of course music!  Feel free to bring your favorite playlist to help you get in the groove.
Some of the products we offer for you to order at your viewing session are: Little Black Books, Heirloom Box with Prints, Albums of all sizes and cover options, Wall Art (yes! it is very acceptable to have a large canvas of yourself on your wall!), Phone App Digital Albums, Personal Peep Shows (retro veiwfinders), Folios, Acrylic Ice Blocks, and Digital Images.  We have something for everyone!
Before you lose your nerve, give Nancy a call today!
303-596-2847 
Let's rock your boudoir session!